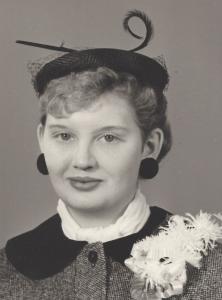 June Faye Walker, 81, went to be with the Lord, at 11:13 am, Tuesday, September 27, 2022, at OSF St. Anthony Health Center.
Born June 2, 1941, in East Alton, she was the daughter of Denver Lee, Sr., and Lou Ida (Cunningham) Hardesty.
She married Clarence Lee Walker, Jr. who preceded her in death.
June dearly loved her family and is survived by a daughter, Melissa Millsap (Frank) of East Alton; five grandchildren, Dustin (Brandi) Honchell, Cory Millsap, Geoffrey (Kaitlyn) Millsap, Amanda (Eric) Beckman, Lindsey Beckman; nine great-grandchildren; and sister-in-law, Ruth Ann Hardesty in Missouri.
She was preceded in death by her parents; husband; two daughters, Kathy Walker, Denise Peterson; and a brother, Denver L. Hardesty, Jr.
Graveside service and burial will be held at 2 pm, Tuesday, October 4 in Upper Alton Cemetery. Mr. Paul Sauls will officiate.
Memorials may be made to a charity of one's choice.
Marks Mortuary in Wood River is in charge of arrangements.