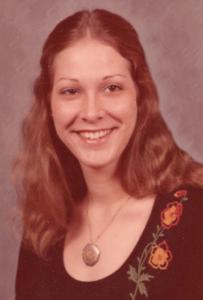 Penny Marlene Lupcho Irvin, age 62, died Sunday, January 22, 2023, in Bethalto, IL. She was born November 21, 1960, in Rock Spring, WY.
Our Dear Penny has gone to be with the ancestors. She had a difficult life and struggled to survive everything that the devil threw at her. She is survived by two brothers, Steve John, and Joseph James. Three children, with ex-husband Bryant Irvin who preceded her in death, D.J. Irvin, Stephanie Irvin, and Jennifer Irvin, and four grandchildren, and her tiny best friend, a wire-haired mutt named Spot who is being well cared for. She was preceded in death by her mother, Linda Lupcho, Father, Steve Lupcho, and loving companion, Terry Bass.
Penny loved everyone and was the constant companion to her brothers. She adored her children and grandchildren. At one time she was an accomplished pianist. Thousands of friends were amazed by her strength and goodness. She was a checker at the Wood River Schnucks most recently and had worked for Mehans Grocery and Shop and Save. Customers would wait in line for her to check them out because of the loving personal touch she shared. It mattered not how short the other lines were, they would wait for her. She was injured in a car wreck many years ago, which caused her to eventually wear a lift on one shoe and walk with a cane. This did slow her down but did not make her quit. She was a friend to everyone, and social media became her mode of "getting out" to visit with friends. If a mention of going to Santino's Restaurant, in town, was made, she would make sure the car did not leave without her.
Following cremation, a visitation will be from 10:00 a.m. until the time of the memorial service at 11:00 a.m. Saturday, February 4, 2023, at Gent Funeral Home in Alton. All are welcome, and donations, in lieu of flowers, can be made to a local animal shelter of your choice in her name. The remains will be transported to Wyoming at a later date, to be interred with her mother in the family plot. Online guestbook and information may be found at www.gentfuneralhome.com.