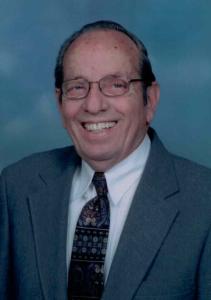 Harold F. Berghoff, 86, died at 7:19 p.m. Tuesday, September 27, 2022, at Alton Memorial Hospital.
Born March 6, 1936, in Alton, he was the son of Clarence Sylvester and Thelma Grace (Muffley)Berghoff. Mr. Berghoff served in the U.S. Army and was a member of St. Ambrose Catholic Church in Godfrey. He retired as a salesman for Sysco in St. Charles, MO. On September 6, 1958, he married the former Mary E. Fitzgibbons in Brighton, IL. She survives.
Also surviving are five daughters, Theresa Trapp (Ken) of St. Peters, MO, Donna Fox (Kip) of Arlington, TX, Carolyn Lahr (Matt) of Broken Arrow, OK, Janelle Berghoff of San Diego, CA, and Angela Koehler (Jay) of Ft. Collins, CO, and two sons, Daniel Berghoff (Stephanie) of Chesterfield, MO, and David Berghoff (Lisa) of Defiance, MO; sixteen grandchildren, Sean Trapp, Jaclyn Pitcher (Zach), Brad Trapp (Nicole), Brittany Yates (Jeremy), Tyler Eberlin, Tara Fox-Snellenbarger (Aaron), Kyle Fox (Dean Chapman), Jen Fox Goodman (Bill), Katrina Lahr, Martina Lahr, Kristen Banks (Tim), Eric Berghoff, Courtney Berghoff, Ashley Berghoff, Cassidy Berghoff, and Simone Cho; six great-grandchildren, Dayton Yates, Scout Yates, Charlotte Pitcher, Oliver Pitcher, Bentley Banks, and Grayson Lahr.
Along with his parents, he was preceded in death by six brothers, Bill, Ed, Allen, Bob, Leonard "Cork", and Carl.
Visitation will be from 8:30 a.m. – 10:30 a.m. Monday, October 3, 2022, at Gent Funeral Home in Alton, followed by a Mass of Christian burial at 11:00 a.m. at St. Ambrose Catholic Church in Alton. Father Steven Janoski will officiate. Burial will be at St. Joseph's Cemetery in Alton with full military honors. Memorials may be made to St. Ambrose Catholic Church, the American Kidney Foundation, or the Alzheimer's Association. Online guestbook and information may be found at www.gentfuneralhome.com