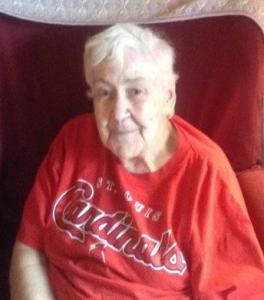 Jean Wilson Wright
September 26, 1929 - September 15, 2023
Jean was born in New York City in 1929 to Edwin M. and Marjorie Wilson Wright. Her younger brother, Wilson P. Wright, was born in 1934.
During her childhood, the Wright family lived in New York, Virginia, Persia (now Iran), and Ohio.
She passed away peacefully at Bria of Godfrey, having almost reached her 94th birthday, on September 15, 2023.
In 1946, Jean moved to Beverly Farm in Godfrey where she was a resident and worked with children. She loved to knit blankets for the babies in the nursery.
In 1996, Jean moved to Alton where she owned a home with her best friend, Barbara Whitlow. She and Barb lived in that home with several other wonderful ladies until Barb passed away in November of 2021. Jean stayed in her home until May of 2023. Jean was very blessed in her life to have several loving caretakers her during her life.
Jean was a lifelong Cardinals fan and watched and attended hundreds of baseball games. Her hobbies included working on puzzles, participating in Special Olympics and caring for pets. Her dog, Buddy, was a favorite of hers.
Jean had many friends and always brought a smile to everyone's face.
She is survived by Kari Wright Sealund of Lake Barrington, Illinois, and Janice Wright Altmayer and Brian Altmayer of Arlington Heights, Illinois, and their children - Kristin Sealund, Chase Altmayer, Shane Sealund, and Cole Altmayer.
Visitation will be held on September 26, 2023, from 1:00 p.m. to 3:00 p.m. at Elias, Kallal and Schaaf Funeral Home in Alton.
Funeral services will be held on September 26, 2023 at 3:00 p.m. in the funeral home chapel.
Private internment will take place at Wooster Cemetery, in Wooster, Ohio, at a later date.