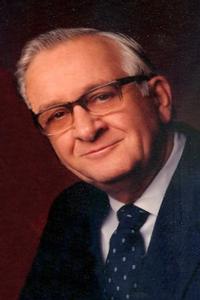 Leonard J. Friederich, 96 of Glen Carbon, Illinois passed away on Wednesday, January 9, 2019 at his home.
Leonard was born on April 22, 1922 in Wood River, Illinois, the son of the late Joseph B. and Carolyn E. (Neff) Friederich. Leonard was the owner and operator of Friederich Heating and Cooling and a member of St. Elizabeth Catholic Church in Granite City.
He proudly served his country during WWII in the Merchant Marines and was a well known carpenter, building 4 homes in the metro area. In his free time Leonard enjoyed his days going to Lake of Egypt and the many reunions with former Merchant Marines he served with. His greatest joy was spending time with his family, especially his grandchildren. Leonard will be remembered for his kind heart and all the special times he shared with his family and friends.
Leonard is survived by and will be missed by his wife of nearly 72 years; Lucile (Konzen) Freiderich, whom he married on April 26, 1947; his children; Susan (Randall) Bell of Goreville, Illinois, Mike (Janet) Friederich of Omaha, Nebraska, Jane (Thomas) Reis of Edwardsville, Illinois, Diane (Michael) Tyson of Fairdale, West Virginia; grandchildren, Katherine, Amy, Keith, Stephen, Andria, David, Aaron, Brook; 14 great-grandchildren; brothers, James and Eugene Friederich.
In addition to his parents, Leonard was preceded in death by his son; Mark S, Friederich; twin brother, Leo Friederich; sister, Myrtle Grant.
In celebration of Leonard's life, visitation will be on Wednesday, January 16, 2019 from 10:00 a.m. until the time of the service at 11:00 a.m. with Fr. Zac Edgar officiating at St. Elizabeth Catholic Church, 2300 Pontoon Road in Granite City.
Burial will follow at a later date at the Lake of Egypt.
Memorial donations are suggested to Heartland Hospice or to the Siteman Cancer Center.
Irwin Chapel, 3960 Maryville Road in Granite is serving the family.