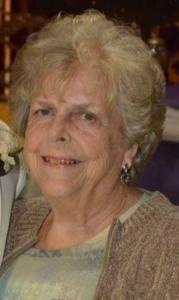 Mary Catherine "Cookie" Chapman, 80, of Bunker Hill, IL, died at her residence on Friday, January 14, 2022 at 2:26 am.
She was born April 12, 1941, in St. Louis, MO to Alphonse Grelle & Catherine (Paschang) Grelle. She married Raymond A. Chapman on September 30, 1961 in Alton, IL. She was a homemaker. Mary was a member of the St. Ann's Altar Society, 20th Century Club, Lions Club and Beloved Birthday Club. She loved to garden. She also enjoyed birds and spending time with her family. She was a loving wife, mother and grandmother who always had a smile.
She is survived by her spouse, Raymond Chapman of Bunker Hill, IL, children,Teresa (Daniel) Cope of Bunker Hill, IL, Jeffrey (Nannette) Chapman of Bunker Hill, IL, Mary (Tod) May of Bunker Hill, IL, Jennifer (Frank) Hamilton of Bunker Hill, IL, grandchildren, Elizabeth (David) Golike, Elijah (Jodi) Strohbeck, Evan (Chelsea) Strohbeck, Meghan (Tommy) Santel, Justin (Kelsey) Hamilton, Heather Hamm, Kaitlyn Cope, Benjamin (Meghan) Cope, Megan (Sean) Huneke, Erik May, Patrick May, Michael May, great grandchildren, Cameron Golike, Eleanor Golike, Neal Golike, Evelyn Golike, Liam Meissenheimer, Gavin Whitehead, Waylon Strohbeck, Shawna (Brandon) Scott, Audrey Hamm, Logan Santel, Tyler Santel, Liam Santel, Mia Hamilton, Bo Hamilton, Colton Kulp, Evelyn Kulp, great great grandchildren, Alidia Scott, Grayson Scott, sibling, Mildred H. Grelle of Godfrey, IL, sisters in law, Karen Chapman of Newnan, GA, Kathleen Landreth of St. Louis, MO, brother in law and sister in law, Larry and Betty Chapman of Bunker Hill, IL, many nieces, nephews, godchildren, special family members, Tyler (Stephanie) Rolfe, Meghan (Jason) Brooks, Blaise (Ami) Kulp, Tristesse (Ryan) Carrico, Hannah Kulp and special pets, Willow, Thelma and Frank.
Mary was preceded in death by her parents, grandson, Andrew Chapman, great granddaughter, Evelyn Santel, sisters, Margaret Bechtold, Dorothy Hans and brother in law, Carl Chapman.
Friends may call on Sunday, January 16, 2022 at Kravanya Funeral Home, Bunker Hill, IL from 4:00 pm until 8:00 pm. Funeral mass will be held on Monday, January 17, 2022 at St. Michael's Church, Staunton, IL at 11:00 am. Burial will be at Bunker Hill Cemetery, Bunker Hill, IL. Memorials are suggested to Bunker Hill Ambulance Service or St. Michael's Church. Anyone wishing to send an online condolence may do so at www.kravanyafuneral.com. Kravanya Funeral Home, Bunker Hill, IL is in charge of the arrangements.